IDC Badges: Digital Content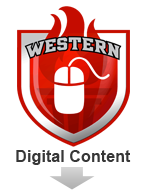 Digital Content
This badge documents expertise in creating content in diverse media such as audio, video, print, and image formats. Badge holders also have experience and training in creating media that is deliverable across diverse devices, and are able to craft digital content specific to anticipated audiences and their needs.
Knowledge, Skills and Abilities
Individuals holding this badge are able to:
Select appropriate media for specific educational tasks;
Evaluate software in terms of its educational potential;
Edit video and audio;
Create podcasts, wikis, blogs, social media;
Embed a variety of media into websites and online tutorials;
Create interactive educational media;
Create content that keeps the user/reader/learner at the center;
Edit written text;
Design written documents;
Use unique and emerging web-based technologies to create and disseminate digital content.
Courses
Individuals earning this badge have completed one 3-credit web tools class, one 3-credit website design class, and three 1-credit skills courses from the following lists:
Badge holders have completed one of these classes:
CSE 627: Web 2.0 for Teaching and Learning
CSE 628: Geospatial Technologies
CSE 660: Video Production 1
and, badge holders have completed one of these classes:
CSE 629: Web-based Website Design
CSE 625: Creating an Internet Website
and, badge holders have completed three of these classes:
CSE 606: Video Games and Learning
CSE 684: Creating Web-based Tutorials
CSE 685: Assessment Tools
CSE 687: Mobile Tech in Education
CSE 689: Creating Electronic Portfolios
CSE 690: Digital Photography and Photo Editing
CSE 691: Digital Storytelling
CSE 692: Learning Objects
CSE 694: Blogs in Education
CSE 696: Podcasts and Vodcasts