IDC Badges: eLearning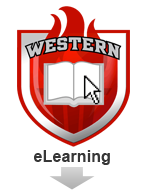 eLearning
This badge documents ability to design effective instruction for online delivery. Badge holders understand how to assess learning needs and provide learners with the content they need; they can distinguish how working online differs from teaching face-to-face, and they are able to design instruction that engages and teaches at a distance.
Knowledge, Skills and Abilities
Individuals holding this badge are able to:
Design technology-rich instruction for online dissemination;
Align instruction with educational and discipline-specific standards;
Design assessments aligned to course outcomes;
Design an effective online learning environment;
Create a feeling of community online;
Design interactive online learning activities;
Design and manage group activities online;
Work within learning management systems;
Locate appropriate Web 2.0 tools and embed them in online courses;
Locate and assess open source tools for delivering educational content;
Work with faculty to convert face-to-face classes to online formats;
Provide instructional design support for faculty teaching online.
Courses
Individuals earning this badge have complete the following courses:
ED 626: Instructional Design
CSE 616: Designing and Teaching Online Courses
CSE 617: Open Source Tools